Biogas to Energy Generation at Commercial Swine Production Facilities
Colorado Governor's Office of Energy Management and Conservation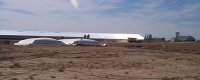 The 13-state Western Regional Biomass Energy Program selected an OEMC proposal to asses the technical, economic and environmental aspects of biogas-to-energy generation possibilities at commercial swine production centers in Colorado. Biogas is a combustible gas derived from decomposing biological waste. Production of biogas such as methane is a result of anaerobic digestion, a biochemical degradation process that coverts complex organic materials to gases and other by-products.
For more information:
Contact: Ed Lewis at (303) 894-2383 or 1-800-632-6662; or e-mail Ed.Lewis@state.co.us.